Shaili Singh scrolls through her mobile phone, searching for a video clip of the jump that launched her into a new stratosphere, ignoring the chuckles from her mother and elder sister.
"I still don't know what potential Bobby sir saw in her," Vineetha says playfully, referring to Shaili's coach Bobby George. "It wasn't even a proper jump!"
Far from proper, in fact.
It's a blurry clip from the 2017 Junior National Championships in Guntur. A 13-year-old Shaili approaches the takeoff board, wobbling side-to-side and lands an awkward standing jump before falling over. Neither did her technique nor the result, fifth with a best leap of 4.64m, show any promise.
Shaili Singh with her family at Parichha Jhansi. (Photo: Andrew Amsan)
But Bobby, who saw her for the first time that day, noticed something that no one else could. "She had no technique at all," Bobby, who has been coaching Shaili since 2018, admits.
"But there is something called the coach's eyes. We see things that are not measurable in terms of performance. I observed her body language between jumps and there was something special about her. There were some parameters like her surface contact time and muscle contraction rate that were good for her age," he adds.
On Saturday, the girl with 'no technique' who didn't even know what a hitch-kick – a running motion executed in the air, a common and widely-used technique in the modern-day long jump – was will make her debut at the World Championships.
It's another feather in the cap of the 19-year-old, who already boasts of an impressive CV. Seen as the heir apparent to India's first track-and-field World Championship medallist Anju Bobby George, Shaili has won a silver medal at the Junior Worlds, a silver at the Asian Championship and has the second-best all-time India jump of 6.76m.
And it all started with that imperfect jump in Guntur. After the finals that day, Shaili's senior Divyanshi took her to meet Bobby. "Shaili was so shy that she was hiding behind Divyanshi. Can you also coach me', she asked innocently," recalls Bobby.
Bobby noted down her details and added her to his provisional trainee list. Months later, World Championship bronze medallist Anju went talent scouting at a national level meet and compiled her list.
"When we went through both our lists, Shaili was a match. Anju saw her through the lens of a champion athlete, and I saw her from the perspective of a coach. So, we decided to rope her in," says Bobby.
In January 2018, Shaili, who had forgotten her brief conversation with Bobby, received a message from her local coach, saying she would have to travel to Bangalore for selection trials and camp.
"After my performance in Guntur, I didn't expect Bobby sir to call me. I had given him my Lucknow coach's number. So that coach called me and said Anju ma'am wants me to travel to Bangalore. But at that time I didn't know her," says Shaili.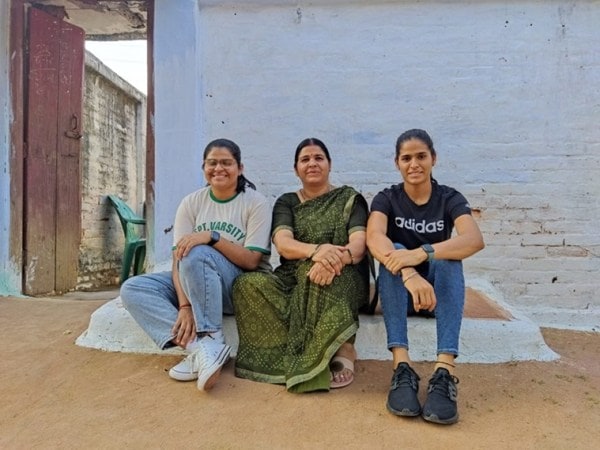 Shaili with her mother Vineetha Singh and elder sister at their home in Parichha Jhansi (Photo: Andrew Amsan)
Shaili, who was in the middle of her cousin's marriage rituals, borrowed her aunt's smartphone and Googled the words 'Anju Bobby George'.
"Even I hadn't heard of Anju ma'am back then," Shaili's mother Vineetha says. "But my sister read about her and told me how great an athlete she was. I knew this would be a golden opportunity for my child."
Vineetha was confronted with a tough choice. She had raised her three children by herself and Shaili had never stepped out of the boundary of the Jhansi district, where she grew up, without supervision. Bangalore, for the Singhs, seemed like a distant country.
"I couldn't accompany her because I had to be at the wedding and at that time we did not even have money for air tickets. I was worried about sending my child so far alone. No one in the family had taken a flight before, I was very nervous. But Bobby sir spoke to me and assured me he would take care of everything. I trusted him and said yes," says Vineetha.
That trust and faith in coach Bobby has paid off. Five years later, Shaili is India's best junior jumper by a distance. The current Asia No. 3 in the U-20 category, Shaili is fresh from an Asian Championship silver and is a medal prospect at the Asiad to be held in Hangzhou, China in September.
She also holds the U-16, U-18 and U-20 national records and is naturally aiming for her mentor Anju's two-decade-old senior national mark of 6.83m set at the 2004 Athens Olympics. Her achievements on the circuit have not only made her a star back home in Parichha, Jhansi but also silenced her doubters.
"A lot of people in my hometown advised that I should not send a girl child so far for training. They didn't believe she would make it big. Here, people are very rigid with their thoughts. Most simply marry off their daughters as soon as they turn 19 or 20. But now the same people come and ask me how they can send their daughters for sports. That makes me feel proud," Vineetha says, standing next to a mural of Shaili at their local park in Parichha.
Mother, an inspiration
For Shaili, the biggest inspiration has been her mother, who has endured countless hardships in raising three children working as a tailor while fighting her own battle with crippling migraines. She also had to face the ordeal of separation and the barbs society threw at her.
"My mother is like Wonder Woman. My father left us and never supported us so you can imagine how tough it was. She single-handedly raised three children and held everything together. That is the reason all of us are so strong today," says Shaili as her mother's eyes go moist.
The financial crunch was another battle that Shaili's mother had to endure. With Vineetha's earnings barely enough to put food on the table, basic amenities like a fridge and television were considered an unaffordable luxury.
Shaili with her mother Vineetha Singh. (Pic: Andrew Amsan)
"You see those holes on the top (points towards the asbestos sheet roof). I used to hang plastic bags there whenever it rained. The sheets have this tendency to absorb heat so in summers we put sacks on the roof and watered them," says Vineetha.
Vineetha's children have always been understanding and did their bit in helping their mother. Shaili learnt the basics of tailoring, which meant Vineetha could accept more orders. "Now I have lost touch but I was an expert in stitching falses. We understood the situation at home. In school, we used to buy second-hand books from seniors every year when we progressed," says Shaili.
Things were so bleak back then that Shaili's mother wouldn't allow them to go to weddings because it meant buying new clothes. "We just couldn't afford fancy wedding clothes, so I never allowed them to go to weddings. I didn't want them to go there and feel bad," says Vineetha.
Although things are in better shape now, Shaili and her family still dream of owning their own house. "We have gone through a lot. Now my only dream is to have a house of our own. My mother has struggled a lot for us and now I want to give back," says Shaili.
'Training is for animals'
Shaili still remembers the day she left her home in Jhansi with a tiny backpack of clothes, a box of puri sabzi for the flight and eyes full of dreams. "I was given a small, basic phone. I asked people at the airport to guide me since I had never taken a flight. But once I reached my seat, it was all smooth," she recalls.
But Shaili knew reaching Bangalore was the start of another journey where hardships would be of a different kind – fitness, competition and discipline. The first eight months under coach Bobby were spent on conditioning before she was gradually eased into competitions.
Coach Bobby doesn't believe in going all-out, or strict army-style training. Bobby, who has a degree in engineering, likes to meticulously plan and set long-term targets for all of his trainees.
"Just training hard doesn't work. Training is for animals and this is not some kind of factory. That's not how champions are produced. We need to guide these young athletes. We never let our athletes get fatigued by overtraining. A coach is a leader and has to take responsibility when the athletes don't perform," explains Bobby.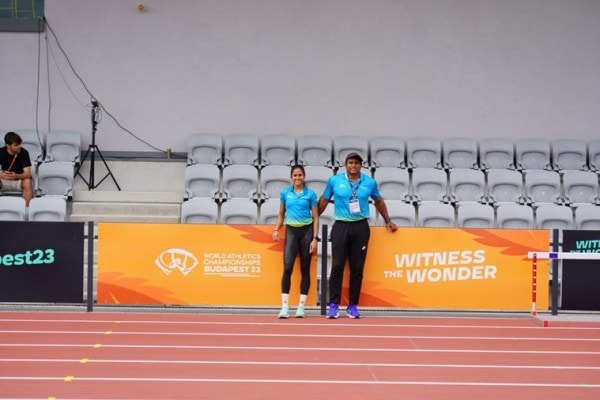 19-year-old Shaili, who boasts of an impressive CV will make her World Championship debut on Saturday.
Personality development, mainly entrusted to Anju, is another area that the Georges put a lot of emphasis on. As he does with other trainees at the academy, Bobby gave Shaili some money when she landed in Bangalore and asked a senior to take her shopping for sports apparel.
"I want my athletes to feel good about themselves. We know these young students leave their homes and come here for training. Anju and I are like guardians to them. It's our job to make them feel comfortable here," he says.
Bobby is extremely pleased with how Shaili has transformed both on and off the field in the five years she has spent training under him. He feels it is only a matter of time before Shaili will surpass Anju's national record.
"I often say that Shaili will take my wife Anju's record and then when Andrea (Bobby's daughter) grows up she will reclaim it. That's how the cycle will complete," says Bobby in a lighter vein.
At the World Championship, Bobby has not set any unrealistic targets for Shaili. Qualifying for the finals itself would be a huge achievement at this age, feels Bobby.
Shaili concurs. "Five years ago I had no clue about long jump techniques and today I am in Budapest for the senior World Championships. I think at my age this itself is a huge achievement. I am lucky to be where I am," she says.




If you want to register your marriage in thane visit : https://courtmarriageregistration.co.in/court-marriage-registration-in-thane

Source link