The mirrors on the almirahs in the Chavda home in Ahmedabad have newspapers taped all over. Seven-year-old Harshi Chavda would stand before the mirrors and pretend to "do her eyebrows and make-up," recalls her grandmother Baluben.
"She probably did it because she used to see her mother do the same at her beauty parlour. But we stopped her," says Baluben.
It was Diwali vacation last year, and Harshi was in Morbi with her parents to visit her aunt, her father Ashokbhai's sister. After celebrating the Gujarati New Year, the family went to the pedestrian cable bridge, popularly known as Jhulto Pul, on October 30.
Harshi would find herself holding on to one of the cables minutes later. Both her parents drowned to death. She now lives in Ahmedabad with her paternal grandparents — Jesingbhai (65) and Baluben (60). Her father Ashokbhai was a medical representative in Ahmedabad and her mother Bhavnaben worked in a beauty parlour and tailored clothes for additional income. Of the 135 who died that day, 55 were children. Seven children were orphaned.
Harshi doesn't talk about her parents or the incident unless asked, say her grandparents. Enrolled in Class 1, her grandparents worry over her every move. "She is our responsibility now and we are so scared. We are afraid we are not doing enough or doing something wrong. We don't know what will happen to her once we pass away. We don't know how we will take care of her. Both Ashok and Bhavna were our breadwinners. She is having trouble in reading on her own and we can't even help her with her studies," says Jesingbhai. Ashok's parents have had little time to process the grief of losing their son.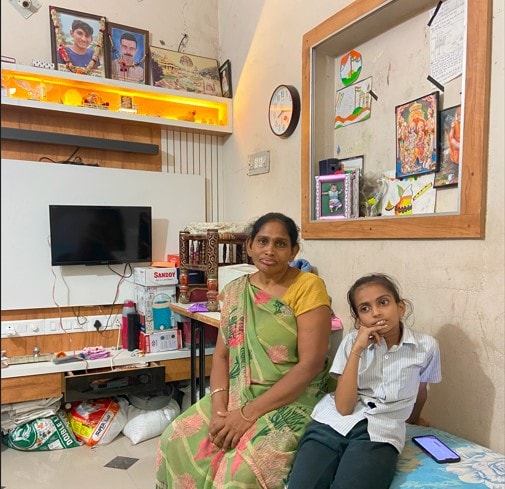 Harshi Chavda (7) was orphaned after she lost her parents in the bridge collapse (Express Photo by Sohini Ghosh)
Ashok's brother Anil, 33, who dotes on his niece, works as a labourer. He recently bought her a pair of roller skates. "I used to skate well. My brother (Ashok) was a green belt in karate. She kept on saying she wanted skates. But now her grandparents are scared she may fall and hurt herself. I have not been able to take her skating yet but hopefully, during the Diwali vacations this time I can. Every weekend, she says she wants to visit one or the other relative's house, and each time we are scared in case something goes wrong," says Anil as Harshi draws with vigour, copying the shapes nearly perfectly from an Instagram reel.
Anil too remains worried about the future while also wracked with guilt. Unmarried, he has had marriage prospects fade away. "No one wants the responsibility of a child and old parents," says Anil. Harshi, whose nails are painted red and pink, says she did not go for garba this year, which she would otherwise never miss a chance on. "I don't like crowds," she confesses.
In Morbi, 11-year-old Gopi Parmar lost her 18-year-old brother Ravi. Their father Ramnikbhai, who was a mason, died of Covid in 2021.
Ravi, who used to work at a ceramic unit, and his cousin, who had come from Surat, had gone to the bridge on that fateful day. While the cousin escaped, Ravi was found dead later.
The two boys had not told Ravi's mother Gitaben (44) that they were going to the bridge. "When they were at the bridge, Ravi made a video call to Gopi to tease her. She got upset because they did not take her along. To pacify her, Ravi said he would get panipuris, the much-loved street food, on his way back home," says Gitaben.
Gitaben, who used to work as a cleaner at a trust-run hospital in Morbi, had to leave her job to take care of her daughter. "My hospital timings were 8 am to 2 pm but Gopi's school is from 12 pm to 6 pm and she has to go for tuitions at 9 am. I cannot leave her alone now that she is all I have," says Gitaben.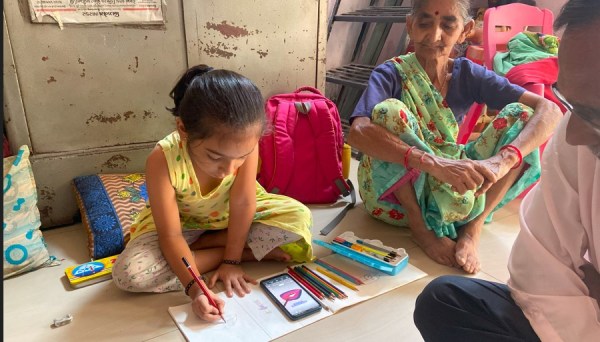 Gitaben with her 11-year-old daughter Gopi. (Express Photo by Sohini Ghosh)
Now she works as a house help. Gopi, however, has her share of complaints. She is upset about her mother not letting her go for overnight school trips to Pavagadh and other places. She says she missed Ravi on Rakshabandhan.
Like Gopi and Harshi's families, many are still struggling while picking up their broken selves since the tragedy struck.
The unfolding of a disaster
Oct 30, 2022: The upstream steel cable of Jhulto Pul, the historic cable-stayed bridge across River Machchhu, snaps while around 400 people are on the bridge. Jhulto Pul plunges into the river, killing 135 and injuring more than two dozen.
Oct 31, 2022: Police register a case of culpable homicide, not amounting to murder, against 'agencies responsible for the maintenance and management of the bridge' and arrest nine people, including two managers of Ajanta Manufacturing Private Limited (AMPL) of Oreva Group even as search and rescue operation continues. The state government forms a Special Investigation Team (SIT), comprising bureaucrats, engineers, academics, and police officers to conduct a probe, simultaneously with the police investigation.
Nov 1, 2022: Prime Minister Narendra Modi visits the accident site. Search and rescue operations continue.
Nov 2, 2022: Police question Sandipsinh Zala, chief officer of Morbi municipality. The Morbi civic body holds a condolence meeting to pay tribute to 135 victims.
Nov 3, 2022: Search and rescue operations end.
Nov 4, 2022: Sandipsinh Zala is suspended from service and transferred out of the Morbi municipality.
Nov 24, 2022: Hearing a public interest litigation (PIL) moved suo motu in connection with the bridge collapse, the Gujarat High Court observes fault on the part of Morbi municipality and asks the state government why it shouldn't consider superseding the municipality.
Dec 8, 2022: Kantilal Amrutiya, who wove his election campaign around his "rescue act" in Machchhu river after the collapse of the bridge, wins the Morbi Assembly seat on a BJP ticket.
Dec 11, 2022: The SIT submits its primary probe report to the government, flags several lapses in repair, operations, and maintenance of the bridge, and underlines that 22 of 49 wires in the upstream cable were rusted.
Jan 13: A Morbi court issues an arrest warrant against Jaysukh Patel, managing director of AMPL of Oreva Group, as he doesn't respond to police summons to join the probe.
Jan 18: The state government serves notice on Morbi municipality, asking to show cause why its general board should not be suspended in view of the Jhulto Pul bridge collapse.
Jan 25: Oreva Group tells Gujarat High Court that it is ready to pay compensation to those killed and injured in the bridge tragedy.
Jan 27: Morbi police files a chargesheet in the case, naming Jaysukh Patel as the main accused. Patel, meanwhile, continues to be on the run.
Jan 31: Jaysukh Patel surrenders before a local court in Morbi, and is taken into custody by police.
Mar 10: Police file supplementary chargesheet against Jaysukh Patel.
April 11: The state government supersedes the general board of BJP-ruled Morbi municipality for "incompetence" in view of the bridge collapse.
May 4: HC grants bail to three security guards who were manning the Jhulto Pul at the time of the accident.
June 9: HC grants bail to two clerks who were manning ticket windows at the Jhulto Pul bridge site.
Oct 9: In its final report, SIT indicts Oreva Group, and Morbi municipality chief officer for the collapse of Jhulto Pul.




If you want to register your marriage in thane visit : https://courtmarriageregistration.co.in/court-marriage-registration-in-thane

Source link