Sitting on a bench outside Mumbai's Wadala railway station, clutching a white plastic bag heavy with papers that document his lifetime of struggle, Khila Nand Jha says all he wants is to meet actor Sonu Sood. Or Salman Khan. Someone who can take some of the burden off his drooping shoulders.
In the Bihar of the 1970s and 80s, Jha had stirred up a bit of a social revolution. A Brahmin who fell in love and married a Dalit, he took on a society steeped in casteism. As he faced harassment and ridicule over his choice, Jha fought back, sat on a hunger strike, got the establishment and even Parliament to take note. Today, nearly three decades later, the death of his wife Minoti Paswan has left him a broken man.
Minoti, 62, died in April, three months after she suffered a paralytic stroke. Jha, 65, who ran up a debt of Rs 12 lakh for her treatment, is now in Mumbai with his younger son Pawan Kumar, hoping to find someone who can help him repay his debtors.
As Jha recounts his story, he stops every now and then to pull out typewritten, frayed letters and newspaper clippings, including one from The Indian Express dated February 18, 1988, to back his point.
A resident of Madhepur village in Madhubani district of Bihar, Jha worked as a wood cutter, earning around Rs 2 every time he was called to cut or prune trees at people's homes. In the late 1970s, Jha, then in his early twenties, met Minoti, daughter of a Dalit woodcutter who usually accompanied her father to work, and the two fell in love. He says his father put his foot down. "He told me this cannot happen as she was from a choti jaat (lower caste). He said, 'You have two sisters. If you marry outside our caste, no one will marry them.' When I stuck to my stand, my father asked me to leave the house," Jha told The Indian Express.
Khila Nand Jha and Minoti Paswan with their children.
Jha married Minoti in 1979 at the Jhanjharpur registration office in Madhubani. "It was tough, just like my father had warned. Every time Minoti went to get water from the public tap, people would clean it with mud before using it again. It was painful to see that," he says.
A few months later, Jha and Minoti left their village in Madhubani and moved to Darbhanga, where he approached IAS officer J M Lyngdoh, who was then Commissioner, Darbhanga Circle, and would go on to be Chief Election Commissioner.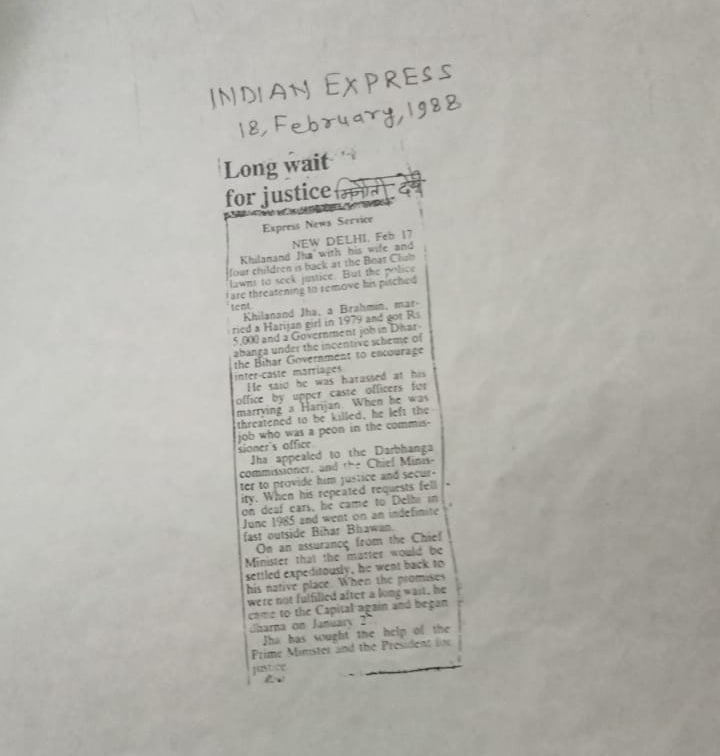 Clipping from The Indian Express, dated February 18, 1988.
"I showed him documents of my inter-caste marriage and told him the harassment I was facing. He told me he can hire me as a peon at the Commissionerate but warned me that I might face trouble from others since I had an inter-caste marriage. I had no choice and I was happy to get a job, so I started working there," he says.
But as news of his inter-caste marriage spread, the workplace started getting hostile. "I was posted to the flying squad at the Commissionerate. The head of the squad, a Brahmin, would trouble me for nothing. He would ring the bell for me and even if I rushed into his room within seconds, he would yell at me for turning up late. He and the others would demand an explanation even when I hadn't done any wrong. They would yell and shout at me, say I was coming late even when I reached on time. Initially I would talk back, but then I just gave up. I had no energy left," Jha recalls, his eyes welling up.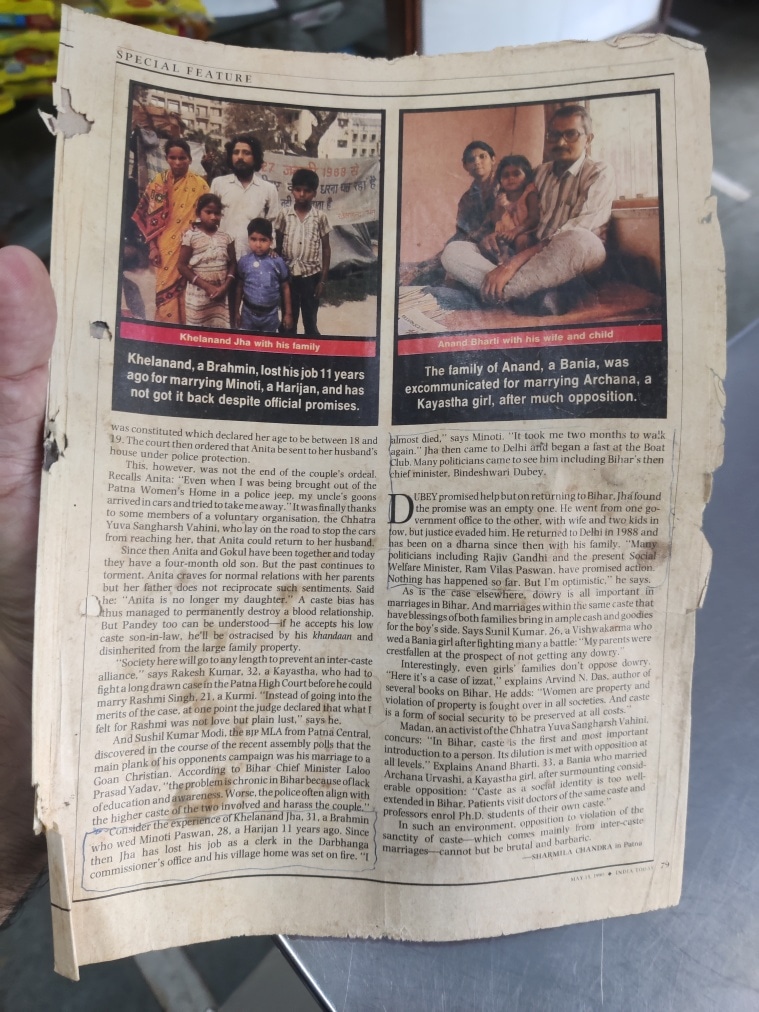 In the late 1970s, Jha, then in his early twenties, met Minoti, daughter of a Dalit woodcutter who usually accompanied her father to work, and the two fell in love.
Those were tough days, but Jha and Minoti found joy in their children Kamal, Pawan and Manju.
However, worse was to follow. "The house where we stayed was set on fire and my wife sustained severe burns. I approached Lyngdoh again who ensured that she was admitted to a good hospital in Darbhanga, where skin grafting was done," he says.
With no fight left in him, in 1983, Jha resigned and the family moved to Delhi's Nangli Vihar area, where he started working as a caterer, earning Rs 200 a day.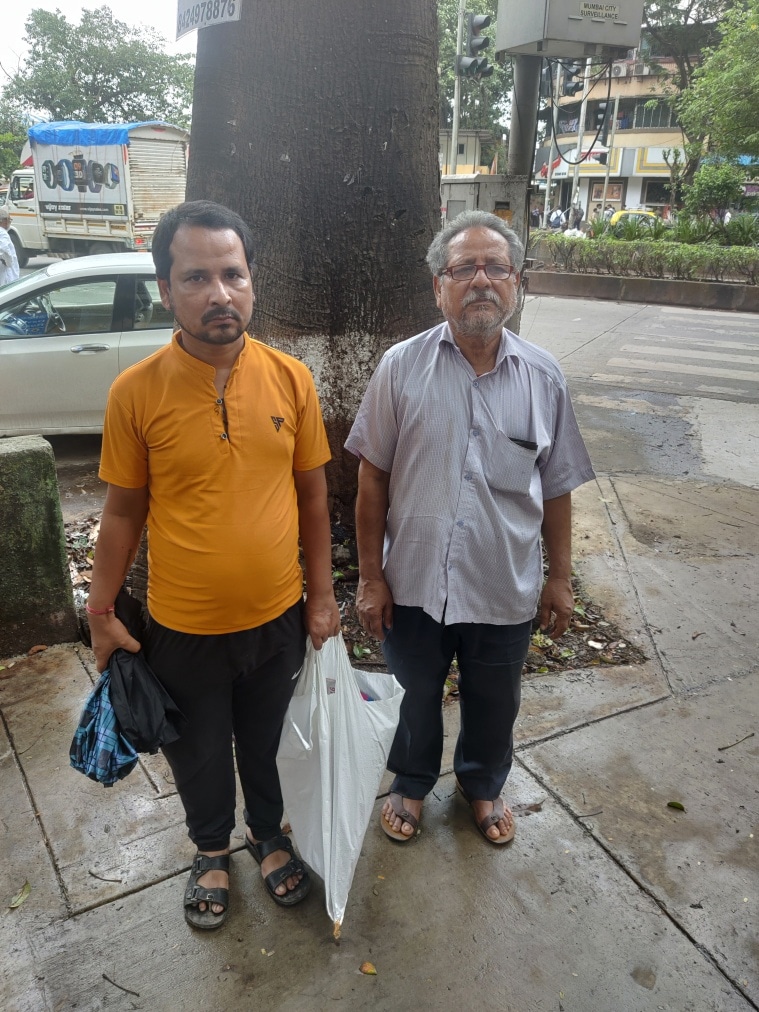 Khila Nand Jha's trip to Mumbai with his son Pawan was prompted by a conversation he once had with Minoti. (Express)
"We thought we would begin afresh, but as I struggled in Delhi, I couldn't put our past behind. I had lost my government job, Minoti had to suffer so much… So I finally gathered courage and decided to fight back," he says.
In October 1983, he sat on a dharna at the Boat Club in Delhi, asking for action against officers who had allegedly harassed him in Bihar and seeking monetary help. Two years later, he went on a hunger strike and "also met some Lok Sabha members and informed them about my plight".
"I told them I had an intercaste marriage; maine koi paap nahin kiya… Mujhe Delhi dekhne ka shauk nahin tha, aapke adhikariyon ne mujhe Delhi dikhaya (I haven't done any sin… I had no wish to tour Delhi, your officers forced me to come here)," he says.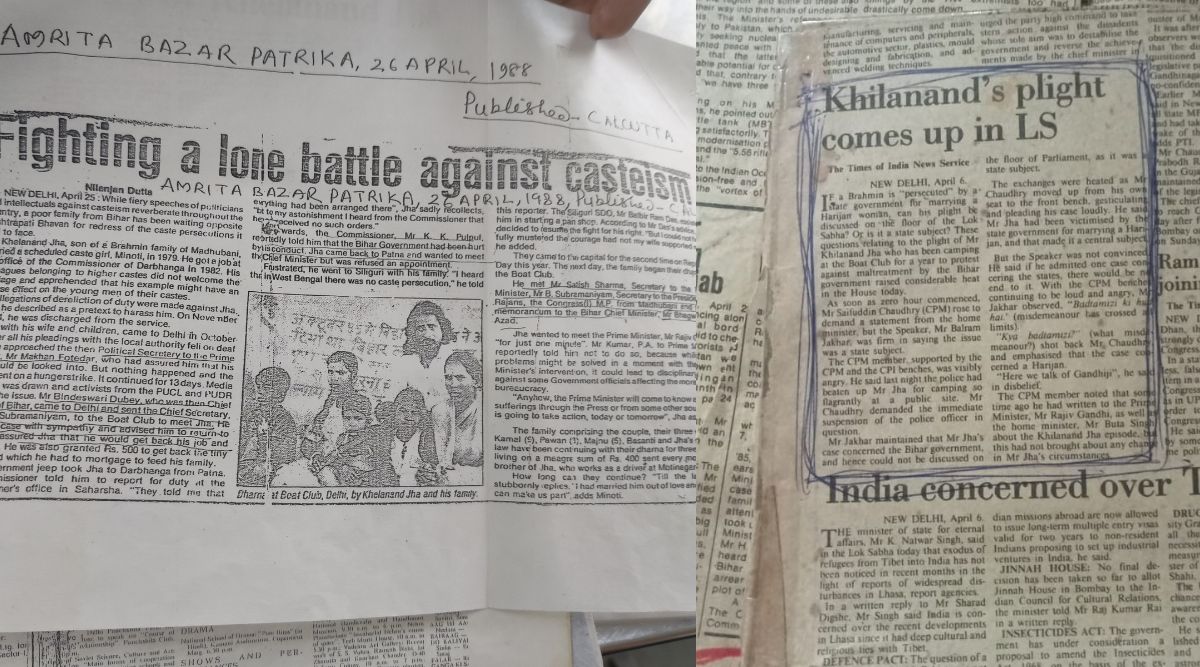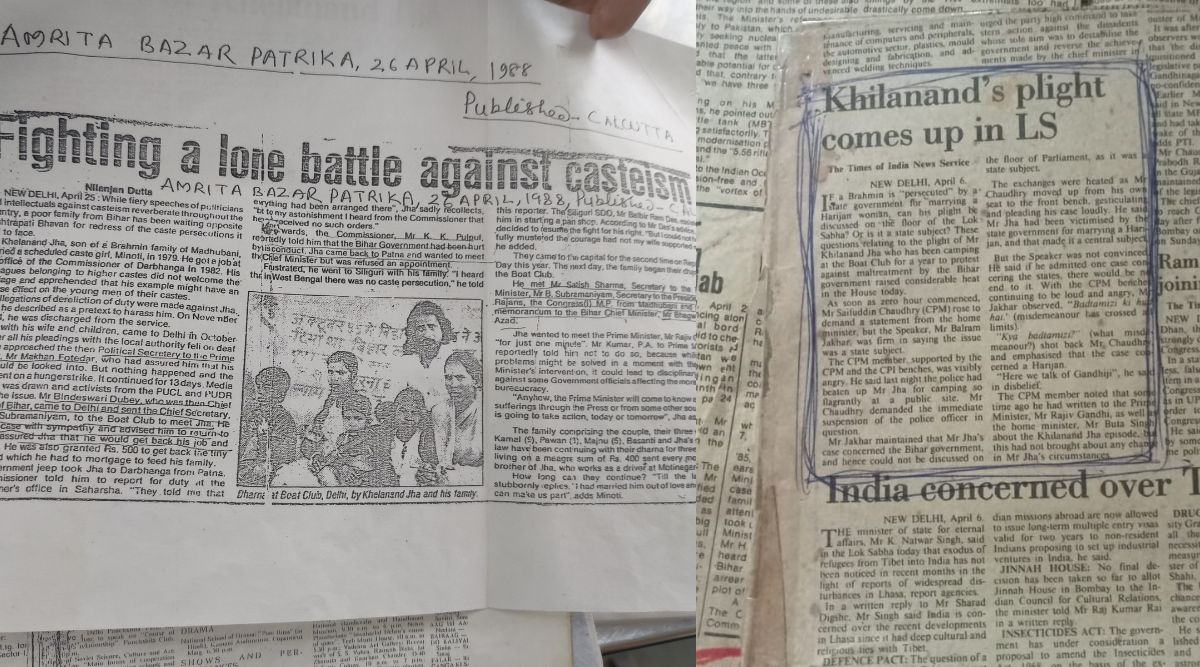 More newspaper clippings featuring Khila Nand Jha's story.
Soon, his case caught the attention of the media and in 1985, CPI (M) MP Saifuddin Choudhary raised the issue in Lok Sabha.
Eventually, then Bihar CM Bindeshwari Dubey called on Jha at the Boat Club. "He promised me Rs 5,000 to help me free a plot of land I had mortgaged, assured me that I would be reinstated in my job and that action would be taken against the government servants who discriminated against me. I then ended my 13-day hunger strike," he says.
Armed with a letter from then Bihar chief secretary KAH Subramanian, Jha left for Bihar, hoping that he would finally get justice.
But that was not to be. "For 10 days, I roamed around with the Chief Secretary's letter but realised nothing was going to happen," says Jha. Tired and disappointed, Jha left for Delhi once again and started working as a caterer at weddings. On days that he got no work, he did odd jobs.
Biting back tears, Khila Nand Jha says, "Main use bahut maanta tha (I adored Minoti)…"
In January this year, Minoti suffered a stroke. "She had gone to buy flour when she suffered a paralytic attack and collapsed. We were referred to a neurosurgeon, who carried out a surgery and put Minoti on medication. The costs were very high and since I didn't have the money, I started taking small loans from local acquaintances . By April, I had accumulated a debt of around Rs 12 lakh. All I wanted was for Minoti to survive; I thought I would repay the money somehow. But she left me in April," he says, breaking down.
Jha says he borrowed another Rs 50,000 to perform Minoti's last rites. While he was still coping with the loss, the debtors came knocking on his door. "I asked for some time to repay the money. But people were beginning to get aggressive. So my younger son and I left for Mumbai. I had no way out," he says. Jha's younger son works as a waiter in Delhi.
The trip to Mumbai was prompted by a conversation he once had with Minoti. "She had a video on her phone of Sonu Sood as gareebon ka masiha (saviour of the poor). I thought maybe he will help me. I have heard Salman Khan helps too," says Jha.
As father and son reached Mumbai with Rs 6,000 between them, they moved into a slum in the Nehru Nagar area of Vile Parle for Rs 3,000 a month. "I went to Sonu Sood's house, and Salman Khan's too, but I haven't been able to meet them. I have a month's time. If this does not work out, we will end our lives. There is no way we can go back to Delhi."
Biting back tears, he says, "Main use bahut maanta tha (I adored Minoti)… She would often tell me that it was because of her that I had to go through so much trouble in life. I would then tell her, 'Don't say that. I am lucky to have you in my life.' Now she is gone."




If you want to register your marriage in thane visit : https://courtmarriageregistration.co.in/court-marriage-registration-in-thane

Source link